Luxury & Boutique Hotels in Jamaica
Are you planning to visit Jamaica in 2023 and looking for the best boutique hotels in Jamaica or luxury Jamaica resorts? In that case, you have come to the right place.
The Jamaican landscape offers stunning mountains, inland rivers, and the most beautiful waterfalls that you won't find in many destinations. Once you add the island's unique music, culture, cuisine, history, and luxurious accommodations, you'll see why Jamaica is at the top of everyone's bucket list.
It has long been a popular destination for families, honeymooners, couples, and all-girls epic getaways. Recent openings of new luxury resorts and boutique hotels make the island more appealing to visitors looking for a luxury getaway. Jamaica's world-class travel experiences extend beyond the beautiful white sand beaches, blue waters, and sunsets it shares with other Caribbean islands.
In this artical we will discuss the luxury & Boutique Hotels in Jamaica that are the best for your next Caribbean vacation in Jamaica, from some of the world's most unique bars to incredible resorts where you'll be treated like royalty. 
Top 5 Luxury & Boutique Hotels in Jamaica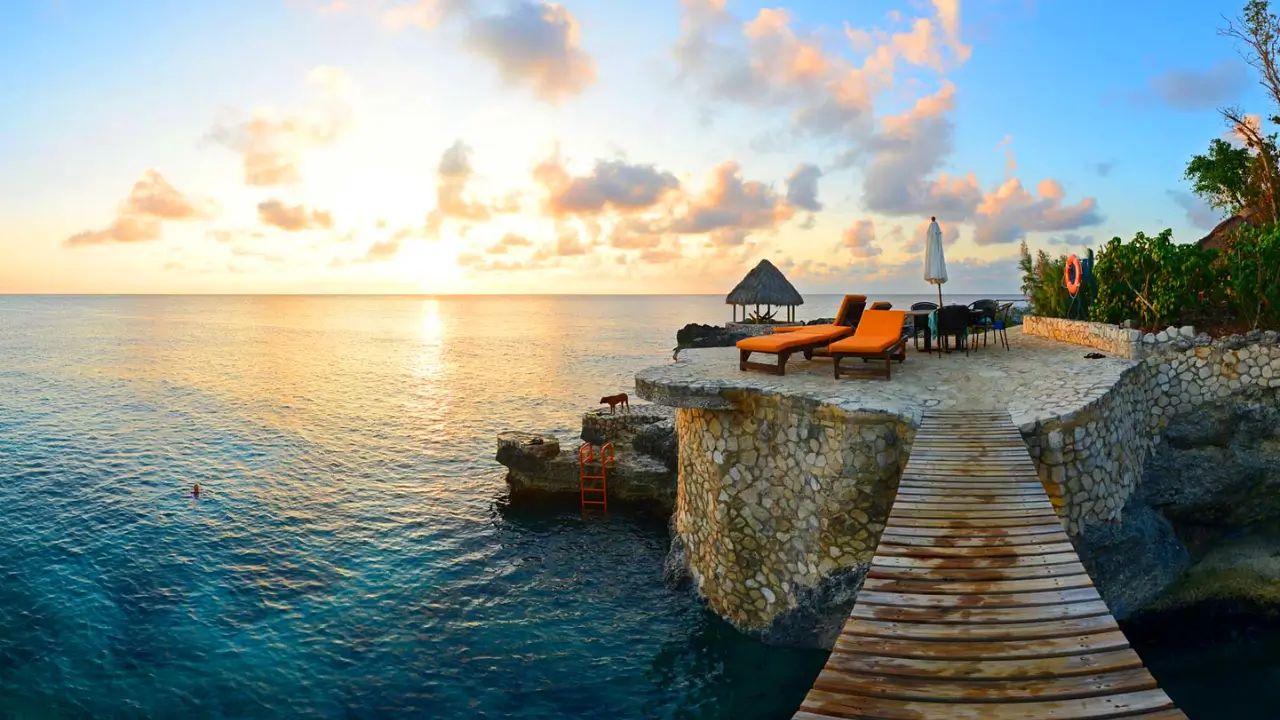 Tensing Pen is located on Negril's West End Cliffs and offers breathtaking views of the Caribbean Sea. This intimate boutique resort is filled with Jamaican and Caribbean artworks that add to its authentic charm. Rooms at Tensing Pen are in luxurious private lodges, each with a unique design. A continental breakfast full of local delicacies is served daily to guests. Guests can enjoy Caribbean cuisine at the hotel's open-air restaurant.
The trendy bar invites guests to cocktails with a Jamaican twist, fresh smoothies, and premium spirits. Private catering in the cottage can also be arranged. Each guest is greeted upon arrival with cold towels and a fruit drink for a quick refreshment. Complimentary Jamaican coffee, fruit, and teas are available throughout the day. Each cabin at Tensing Pen has air conditioning, a king-size bed, and a mini fridge.
2-Geejam Hotel, Port Antonio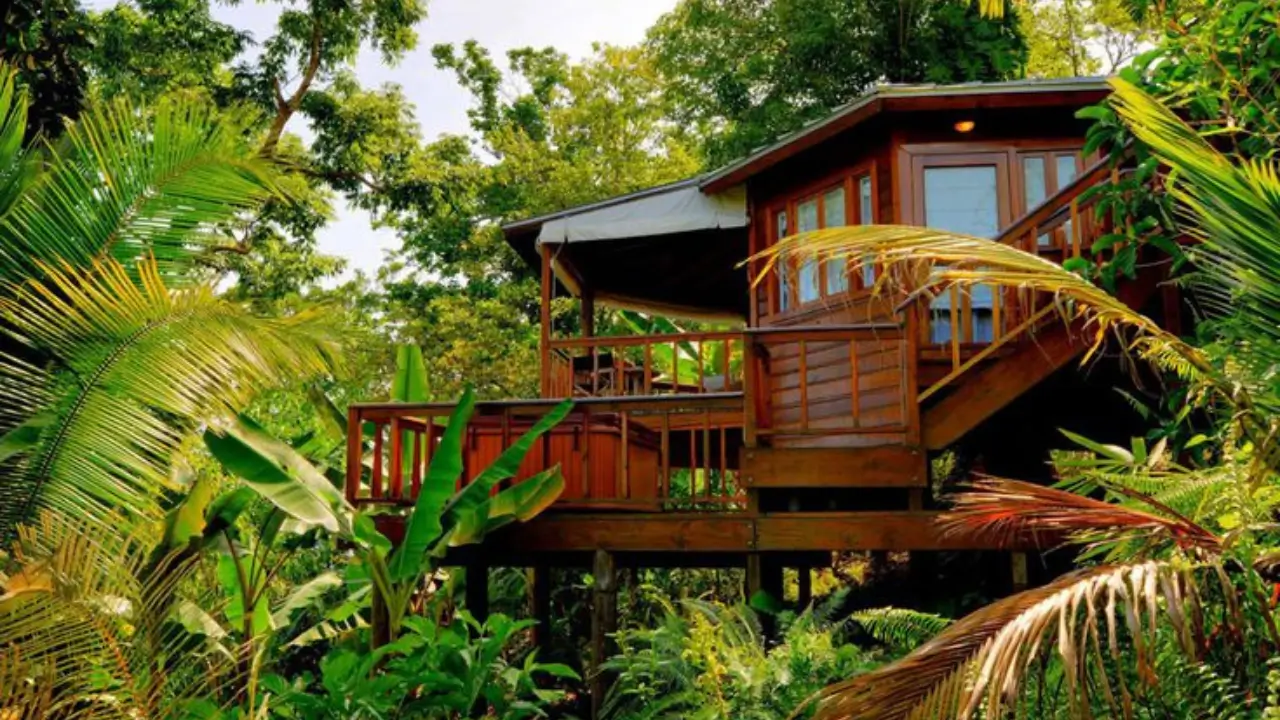 Geejam Hotel is a boutique hotel located in the lush hills of Port Antonio, Jamaica. It is on a sprawling property with a private beach, tropical gardens, and breathtaking views of the Caribbean Sea. The hotel features a variety of accommodations, ranging from luxurious suites to private villas, all designed to offer a unique and immersive experience. 
One of the unique features of Geejam Hotel is its on-site recording studio, which has hosted many famous musicians and artists. Guests can use the studio's state-of-the-art equipment to record their music or enjoy the creative atmosphere. The hotel also offers a range of activities and amenities, including a spa, fitness center, and outdoor pool.  
Geejam Hotel has received numerous accolades and awards, including being named one of the world's best boutique hotels by Condé Nast Traveler. Its combination of luxury, natural beauty, and artistic flair make it a popular destination for travelers seeking a unique and unforgettable experience in Jamaica.
3-Terra Nova All-Suite Hotel (Kingston)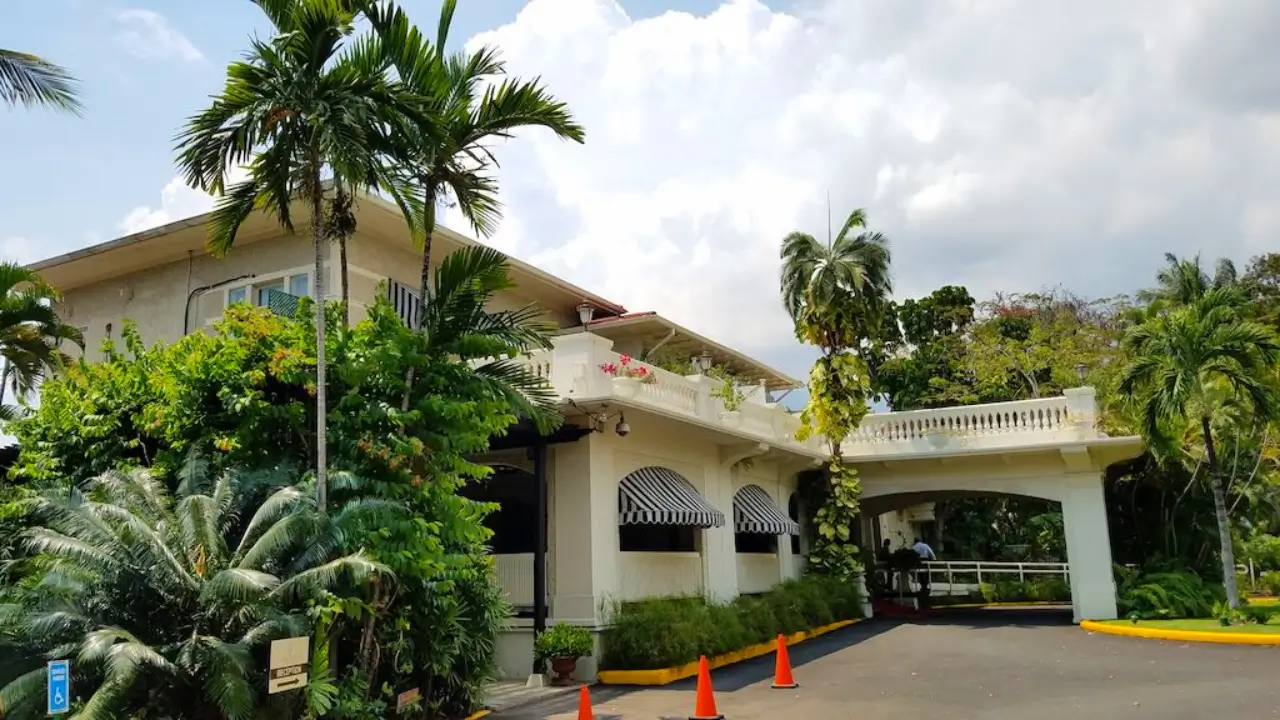 Terra Nova All-Suite Hotel is a luxury hotel located in Kingston, Jamaica. The hotel is known for its spacious and elegant suites, as well as its excellent dining options and exceptional service. It offers a range of suites, including one-bedroom, two-bedroom, and three-bedroom suites, all designed with comfort and luxury. Each suite has a fully equipped kitchen, a separate living area, and a private balcony or terrace. 
The hotel also features several dining options, including The Regency Room, which serves gourmet Jamaican and international cuisine, and The Terrace, which offers a more casual dining experience with a menu of light snacks and cocktails. The Regency Bar & Lounge serves a range of drinks and light bites. The Terra Nova All-Suite Hotel amenities include a fitness center, swimming pool, spa, and business center. The hotel is close to Kingston's top attractions, including the Bob Marley Museum, the National Gallery of Jamaica, and the Devon House heritage site.
4-Trident Hotel (Port Antonio)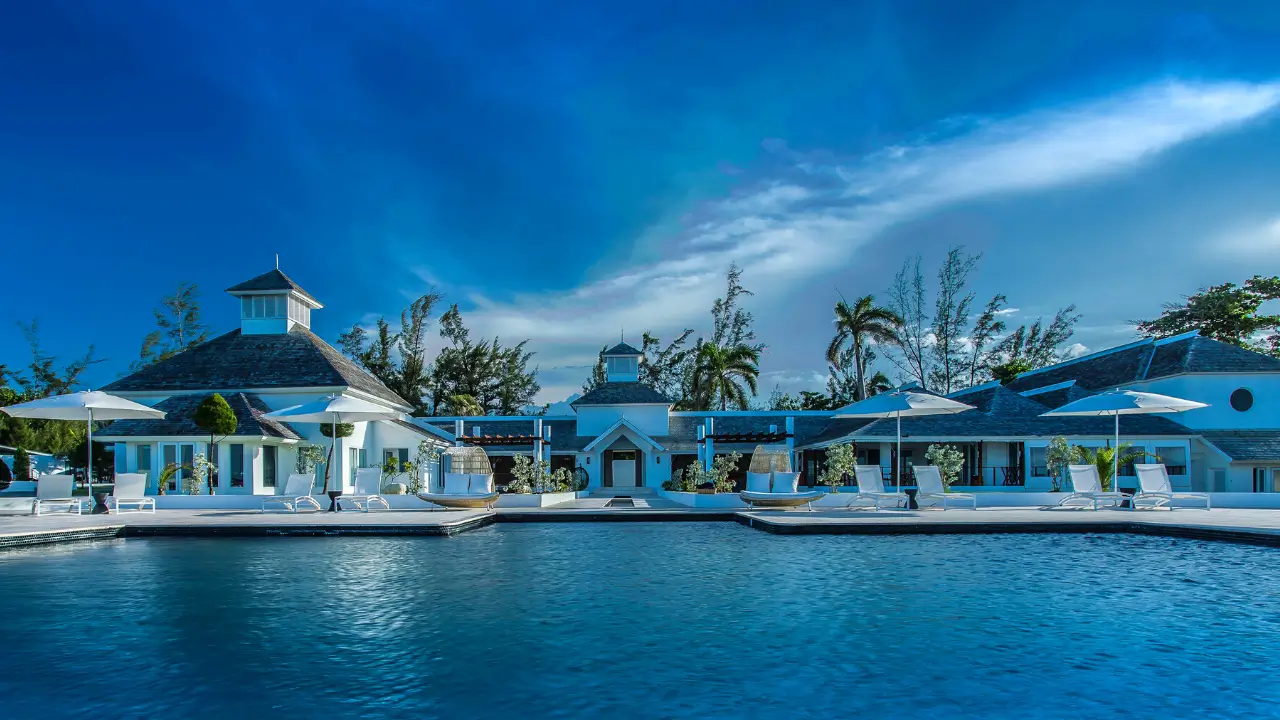 The Trident Hotel is a luxury boutique hotel in Port Antonio, Jamaica. It is situated on a hill overlooking the Caribbean Sea and offers stunning views of the surrounding area. The hotel has 13 villas, each with a private infinity pool and outdoor shower. The villas are elegantly furnished with modern and traditional Jamaican decor.
They feature amenities such as air conditioning, flat-screen TVs, and free Wi-Fi. The bathrooms are spacious and include a separate bathtub and shower. The hotel has a restaurant and bar serving various Jamaican and international cuisines.
Guests can enjoy various activities, including snorkeling, kayaking, and hiking. The hotel can arrange private tours of the surrounding area, including visits to local waterfalls and beaches.
5-Sandy Haven Resort (Negril)
Sandy Haven Resort is a luxurious boutique hotel located in the town of Negril, Jamaica. The famous Seven Mile Beach resort offers guests a peaceful, serene environment to relax and unwind. The resort features 35 well-appointed rooms and suites, each decorated in a contemporary style with Caribbean-inspired accents. Each room has modern amenities such as air conditioning, flat-screen TVs, and Wi-Fi access. Guests can enjoy various facilities and activities at the resort, including a swimming pool, spa services, and water sports such as snorkeling and kayaking. 
The resort also has two on-site restaurants, including the acclaimed Bongo's Restaurant, which serves delicious Jamaican cuisine. For those looking to explore the surrounding area, the resort is just a short distance from popular attractions such as Rick's Cafe and the Negril Lighthouse. Additionally, the resort can arrange excursions and tours to nearby destinations such as the Blue Hole Mineral Spring or the Mayfield Falls
In conclusion, Jamaica offers many luxury and boutique hotels catering to different preferences and budgets. There are many options, from elegant colonial-style mansions to modern beachfront resorts. Many hotels offer exceptional amenities, including fine dining restaurants, spa services, and outdoor recreational activities. 
Other well-known luxury and boutique hotels in Jamaica include Half Moon, Round Hill Hotel and Villas, The Caves , Jamaica Inn, and GoldenEye. These hotels offer personalized services, unique accommodations, and stunning locations that showcase the natural beauty of Jamaica.
Looking to experience the Tours ,excursions and VIP transportation services in Montegoaby ,Unique Tours Jamaica should be your final & Last option that can make your trip into a Best memory and can provide the ultimate experience in Jamaica .Connect with us before you land in Jamaica .