Ultimate Guide to Bamboo Rafting in Jamaica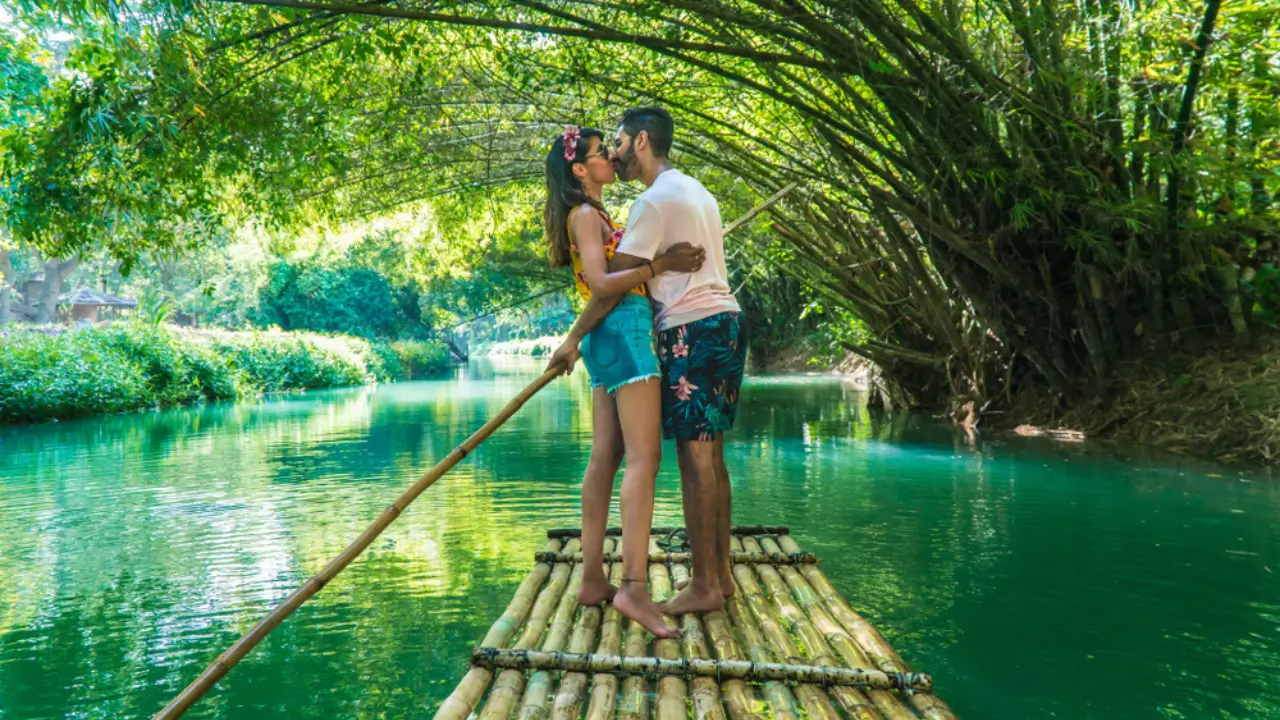 Imagine you're in Jamaica and just stepped onto the most graceful bamboo raft. You may have been planning it for weeks. Now you're excited to discover where this incredible experience will take you. All you can see as you look ahead and to the raft's sides is the beautiful green vegetation surrounding the river. The guide will crack a few jokes to lighten the mood and make you feel like he's an old friend you've known for years. 
The raft begins to glide down the river. You can't remember the last time you felt so at peace. You'll settle into a blissful state of joy in the cascading calm, keeping an eye out for exotic animals along the way. That's the essence of a Jamaican bamboo raft adventure. If you want to try this excursion during your vacation in Jamaica, you've come to the right place. We've compiled everything you need to know about bamboo rafting in Jamaica. 
In this artical we are going to discuss the ultimate guide you need to follow to experience the bamboo rafting experience in Jamaica.  

Rafting in Jamaica — Get to know the rafts
Rafts used for rafting adventures in Jamaica are made almost entirely of bamboo, which is held together tightly by metal wire. Each raft is about 30 feet (9 m) long with a raised platform. There is room for two on this platform near the back of the raft. Some cushions make sitting cozier. You don't necessarily need to get wet on this rafting adventure, as the rafts are pretty stable for boarding and going down the river!
Where to go bamboo rafting in Jamaica
You can go on a bamboo raft to Jamaica on the Martha Brae River in Trelawny, the Rio Grande in Portland, and the White River in Port Antonio. 
-Martha Brae River, Trelawny
While you'll have several options regarding location, the most popular is the tour that takes you along the Martha Brae River. The Martha Brae River is about 3 miles inland from Falmouth, 20 miles from Montego Bay, and 40 miles from Ocho Rios.
-White River, Port Antonio
At White River, each bamboo raft can accommodate two adults and one small child. Like Martha Brae, an experienced captain will take you up and down the river. River tubing is also available on the White River. There are areas with rapids that you may have to pass with some of the trips along the White River.
The next option is the Rio Grande. This is one of Jamaica's longest rivers and is used mainly for rafting. It is slow-going but offers many areas to dip in the crystal-clear water. Much like at the White River, two adults and one small child will be assigned to each bamboo raft.
Expectations from a bamboo raft trip on the Martha Brae River
If you've never been bamboo river rafting before, you may not know what to expect during this experience in Jamaica. Depending on where you go rafting, your experience may vary. Bamboo river rafting trips can be made individually or in a group. No matter who you choose to go with or where you choose, you can expect fantastic scenery, excitement, and adventure. Going deeper into the Martha Brae River experience — this tour begins at "Miss Martha's Herb Garden." 
This garden has a variety of Jamaican herbs and spices, and you can learn about their medicinal and healing properties. Next, you board the raft from the concrete jetty – a licensed dispatcher oversees the boarding process. About 85 licensed and experienced raft captains can share information about the general area and point out things you might not otherwise see along the route.
Best rafting trips and tours in Jamaica
Your Jamaica bamboo river rafting adventure is just a quick booking away. Several trips are available in this category, including solo rafting adventures and more than one-stop options like Unique Tours Jamaica. Some of the best rafting adventures in Jamaica include rafting, swamp safaris, and self-drive mini-tours. The latter combines river rafting with a drive-your-own-tour adventure.
Once you've decided which tour you want to go on, the next step is figuring out how to get there. Some tours include transportation to and from your accommodation. Generally, transportation to the rafting adventure is included for guests staying at all-inclusive resorts in Jamaica, such as Beaches Resorts. You can book tours and excursions before or when you arrive in Jamaica. You'll want to book the more popular trips and excursions well in advance. Some people prefer to wait until they reach their destination to book tours for flexibility (and more beach time!).
What to bring on a bamboo raft trip in Jamaica
When you go bamboo rafting in Jamaica, there are a few things you should bring with you:
Sturdy footwear (water shoes)

– The rafts are bamboo, so the surfaces are not always flat. Rafts can also be a bit slippery. Wear sturdy water shoes with a good grip on your bamboo rafting trip to stay safe.

Camera

– There will be plenty of sights on this tour that you won't want to forget, so we always recommend a camera or phone to take pictures. If possible, bring a waterproof camera. This is the safest option as this tour is around water.

Bottles of water

– The raft ride takes approximately 1-2 hours. Staying hydrated is, therefore, essential. To ensure you have water when needed, bring bottled water or buy it before you board the raft.

Bug Repellent

– ​​Bug spray will be helpful on most outdoor trips in Jamaica, especially rafting adventures. Bringing some with you will help keep the bugs at bay.

Swimwear

– Bringing a bathing suit for rafting is a good idea if you decide to swim along the way. However, this is entirely optional. There are areas where you can change clothes at various Jamaica rafting locations.

Towel

– If you plan to get wet, bring a towel. It would be best if you dried off before boarding the transport to return to your resort.
Start planning your bamboo raft trip in Jamaica!
Now that you know what bamboo rafting in Jamaica will entail, all that's left to do is start planning your Jamaica vacation! Bamboo river rafting is among the best things to do in Jamaica with kids. Still, even if you're not traveling with kids, Bamboo river rafting tours in Jamaica will surely be an unforgettable adventure.
Unique Tours Jamaica providing the Bamboo rafting experiene on many locations such as White river and more , we know our customers want to make their trip , birthday , aniversity & honeymoon as much moemoriable as they can and that make us standout from others .
What are you waiting for ? Check out our Bamboo rafting Packages in Jamaica and make your trip unforgetful with relexing and beacefull rafting experience