Jamaica's Best Tourist Attractions
Jamaica is one of the ideal tourist destinations in the Caribbean. Known for its reggae culture and beautiful scenery, Jamaica is home to some of the best tourist attractions in the world. White sandy beaches, cascading waterfalls, lush rainforests, natural mineral springs, and vibrant mountains overlooking clear, turquoise seas are just some of Jamaica's greatest scenic delights. Add to that its unique culture and exotic food, and it's no wonder why it's one of the best places to visit in the world. With so many attractions and destinations to choose from in Jamaica, it can take time to decide exactly where you want to go and what you want to see during your visit. That's why we've put together a comprehensive list with some of our local knowledge about Jamaica's top tourist attractions.

In this artical we are going to discuss the BEST toursit attractions in Jamaica that you must need to visit on your Jamaica Trip!
Best Tourist Attractions in Jamaica
As a vacation destination, Jamaica has beautiful beaches, vibrant nightlife, and unforgettable tourist attractions. Jamaica may be a small country in the West Indies, but nothing about its people or spectacular sights is small. There are many large resorts in Montego Bay that tourists call home while temporarily exploring the rest of Jamaica. Whether you're making your base in Ocho Rios or Montego Bay, we've covered you. In this Blog, we discuss some of the Best Jamaican attractions to help people while they visit Jamaica
1-Dunn's River Falls, Ocho Rios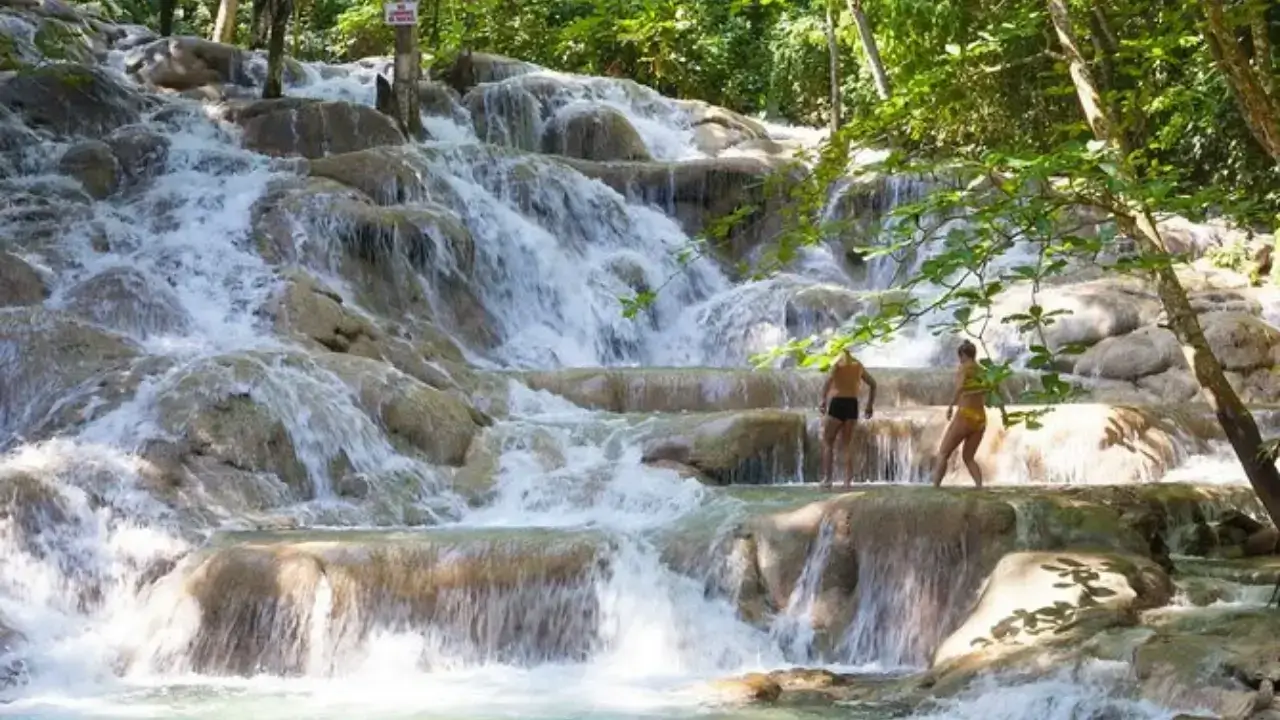 Dunn's River Falls is one of the most famous waterfalls in Jamaica and one of the most popular tourist attractions in the Caribbean. Dunn's River Falls offers a unique experience in Ocho Rios, Jamaica. With the help of local guides, tourists can climb the cascading waterfalls.
The park also has a beautiful beach at the foot of the falls, where all travelers can enjoy relaxation.
When visiting Ocho Rios, don't forget to watch the sunset over the Caribbean Sea because it's one you'll never forget. Dunn's River Falls will leave you feeling refreshed and invigorated, making it the 1st must-see tourist attraction in Jamaica that will inspire you to come to Jamaica again! 
2-Seven Mile Beach, Negril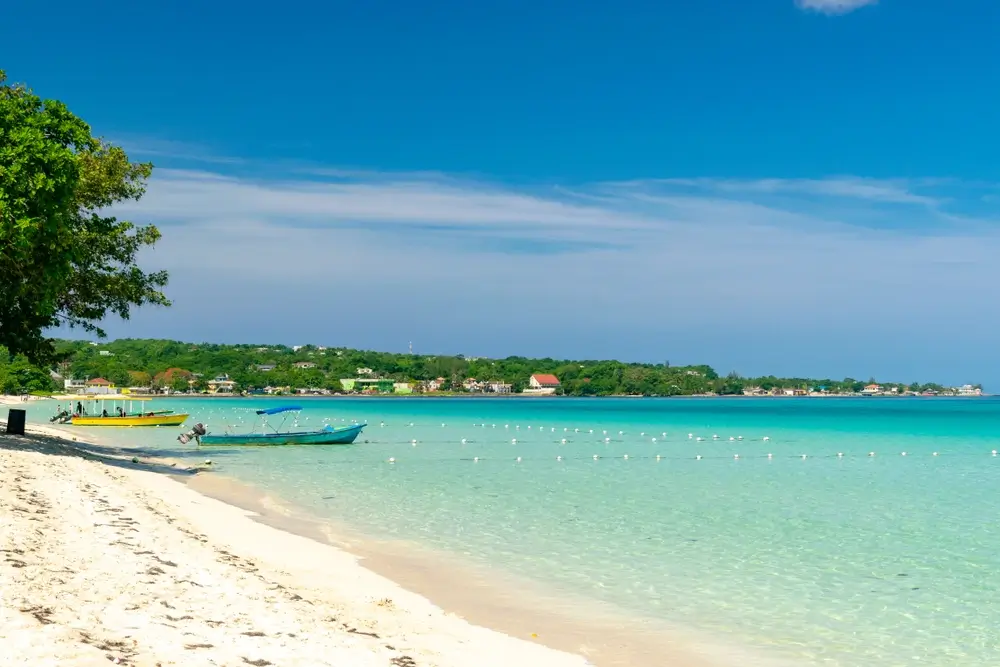 Negril Beach is commonly referred to as Seven Mile Beach and is a place of incredible beauty. It is one of the most beautiful beaches in Jamaica and has been voted one of the best beaches in the world several times. The white sand stretches for seven miles and offers a seductive contrast against the clear, turquoise water. Facing directly west, Negril Beach provides a legendary and dramatic sunset over the Caribbean Sea. Tourists can also enjoy various fun activities on the beach, including glass bottom boat adventures, sea kayaking, deep sea fishing, diving, beach horseback riding, water skiing, windsurfing, and paddle boarding.Negril Beach has reached the top of the list with endless adventures and perfect scenery for total relaxation. It is the 2nd must-see tourist attraction in Jamaica.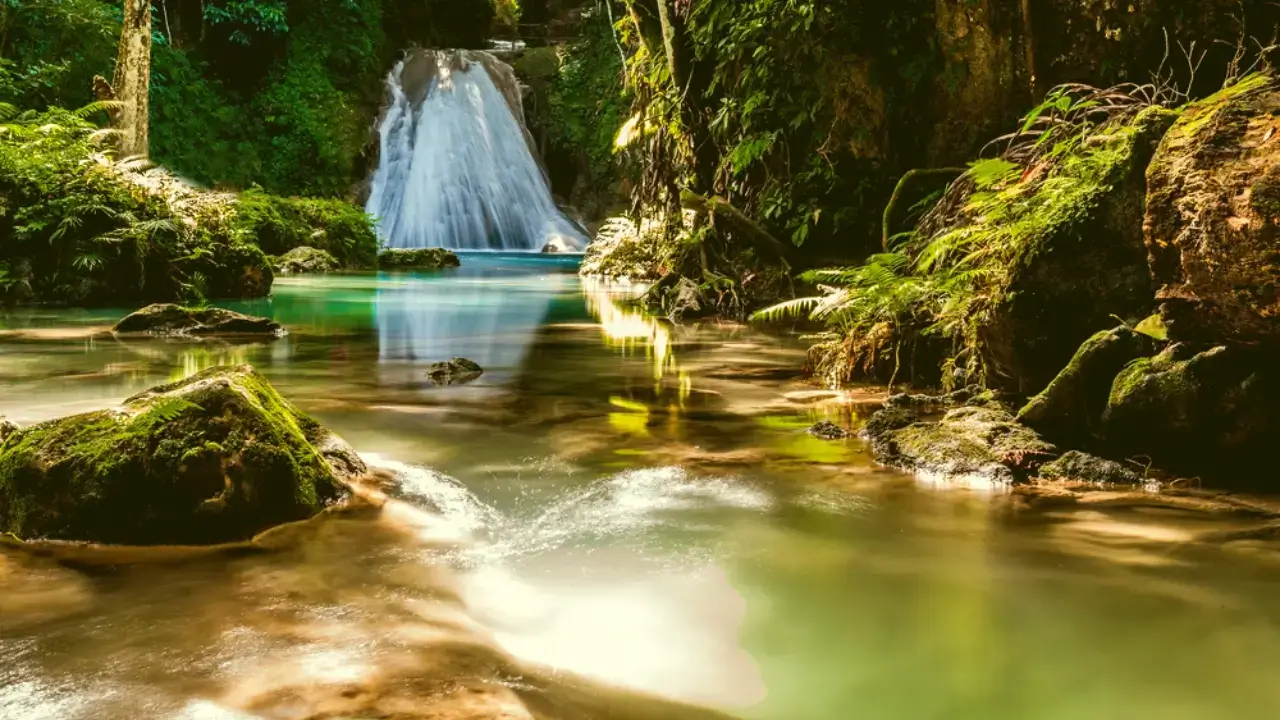 The Blue Hole in Jamaica is a tourist and local island favorite. The "Blue Hole" or "Secret Falls" is located in the rural hills of Ocho Rios. The scenic treasure features waterfalls with multiple swimming holes where tourists can enjoy a day of excitement and relaxation. Go diving into the Blue Hole from various heights, rope swing across the deep blue water, climb behind the waterfalls, explore caves, or take a refreshing dip in the natural springs. The thrill and beauty of the Blue Hole will make it an experience you won't forget, making it the 3rd must-see tourist attraction in Jamaica.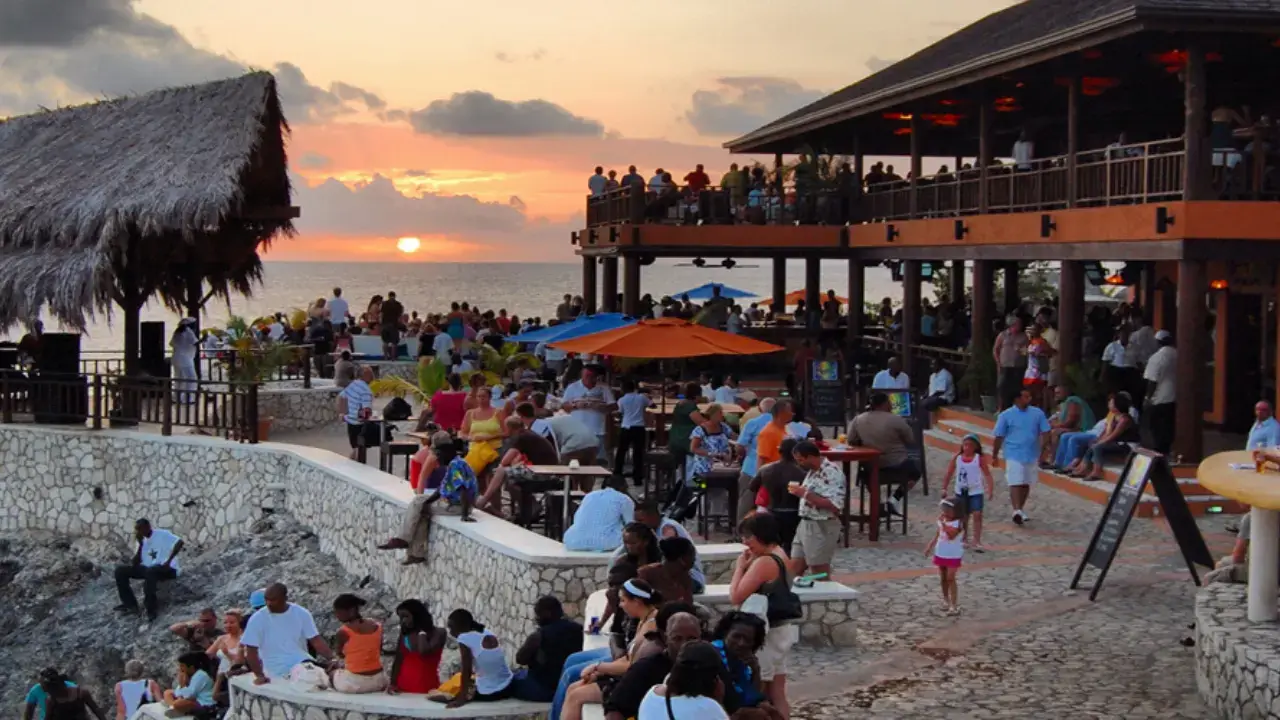 No trip to Jamaica is complete without a visit to Rick's Cafe. This famous watering hole is one of Jamaica's top tourist attractions, and it's no wonder why. Located on the West End Cliffs, close to Couples Negril and Couples Swept Away, Rick's Cafe is the perfect place for cliff-jumping and enjoying the breathtaking Jamaican sunsets .
Its prominent position on naturally formed cliffs has become a gathering place for tourists and locals who flock to watch the sunset every evening. Pop in for some drinks and food for the ultimate relaxed dining experience. Rick's Cafe is the 4th must-see tourist attraction in Jamaica.
5-Dolphin Cove, Ocho Rios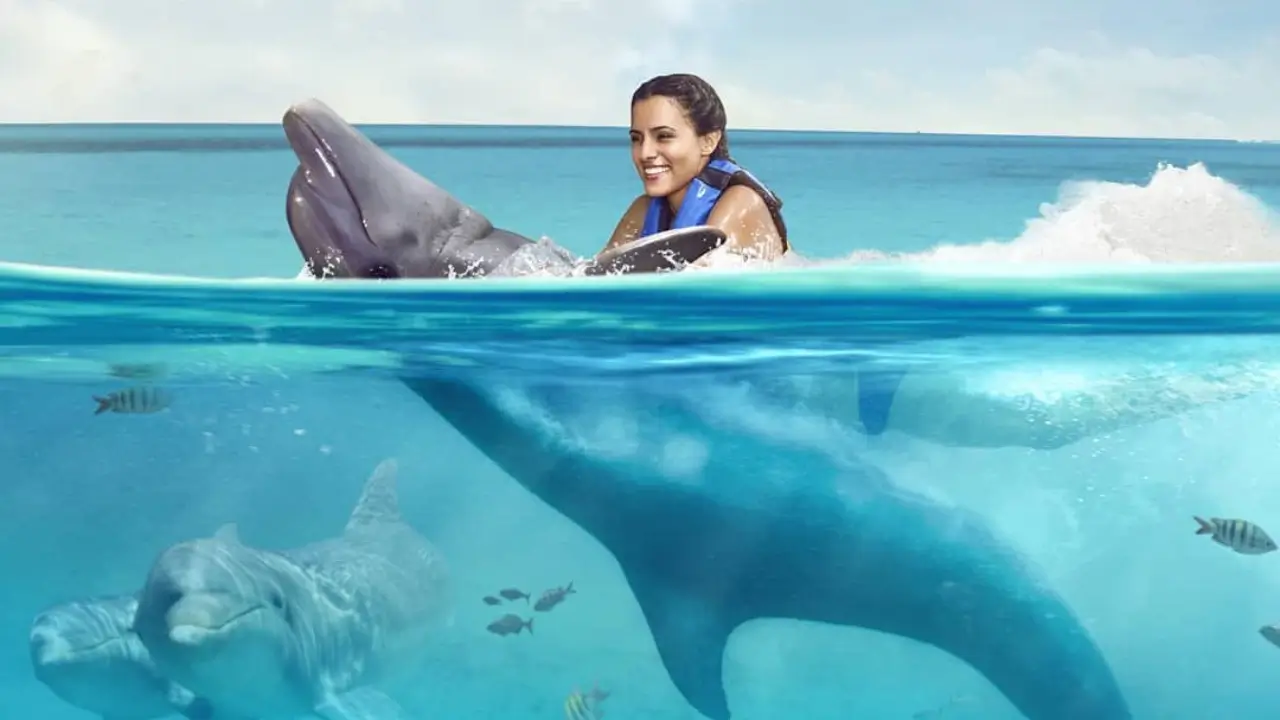 Dolphin Cove is a marine attraction in Jamaica where tourists can swim with dolphins, rays, and even sharks in the natural wonders of the Caribbean Sea. The attraction is located in Ocho Rios, surrounded by lush tropical rainforests. Said to be one of the best interactive dolphin programs in the world, the dolphins are intelligent and extremely friendly, making it an ideal trip for families. 
Swim with dolphins, snorkel with stingrays, interact with other wildlife, including exotic birds and iguanas, or enjoy relaxing on the white sand beaches. Dolphin Cove is an experience of a lifetime, making it Jamaica's 5th must-see tourist attraction.
6- Reach Falls (Port Antonio), Portland Parish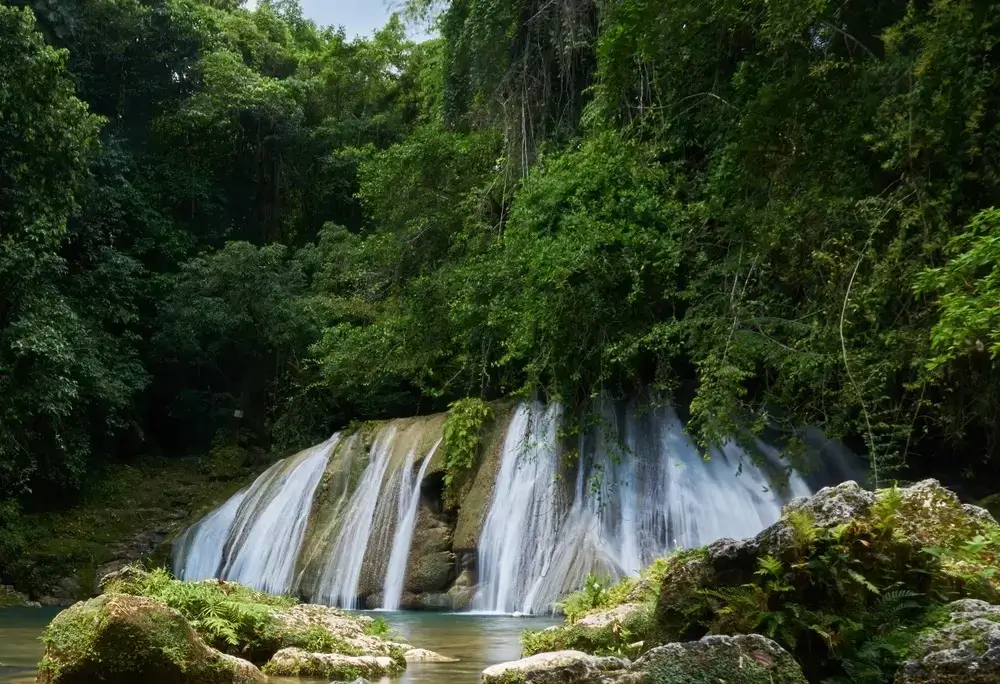 Reach Falls is a picturesque waterfall in the tropical rainforest of Portland, Jamaica. The waterfall flows into an emerald river pool surrounded by lush greenery, hanging vines, and natural bamboo.Tourists can enjoy a refreshing swim in the blue-green water, escape to the secret caves under the waterfalls or experience ultimate relaxation in a natural hot tub powered by the water flowing through the canal. 
The attraction offers a unique combination of comfort, relaxation, and adventure. Reach Falls centers on an exotic waterfall cascading down a rock face into an emerald river pool. The lush surrounding greenery and the refreshing pool under the cascading waterfall promise an unforgettable experience. Reach Falls offers the opportunity to enjoy a cascading waterfall, a picnic area, and a guided tour upstream of the Driver's River (which feeds the falls) with a visit inside our legendary underwater cave.You can even get an invigorating shoulder massage by standing under the cascading water. Reach Falls is often an out-of-the-way attraction and not well-known among tourists. However, you will experience an abundance of wildlife in one of the most peaceful and relaxing environments, making it Jamaica's 6th must-see tourist attraction.
7-Blue Lagoon, Port Antonio, Portland Parish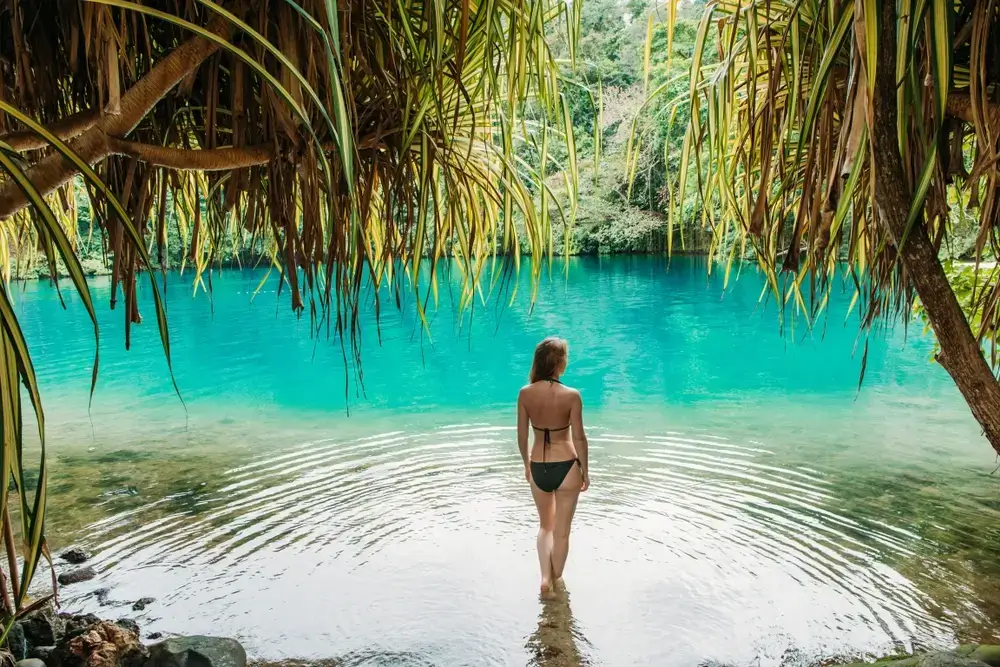 Escape to paradise surrounded by lush foliage and crystal clear water. This remarkable place was once called the Blue Hole, but the name was changed to Blue Lagoon after the popularity of a movie filmed there called "The Blue Lagoon." Fresh water from mineral springs flows into salt water from the Caribbean Sea, creating the unique natural phenomenon that is the Blue Lagoon. To add to the beauty of this must-see attraction, the water changes color from sapphire, royal blue, or turquoise, depending on how the sun hits the water. It's Jamaica's 7th must-see tourist attraction.
8-Appleton Estate, St. Elizabeth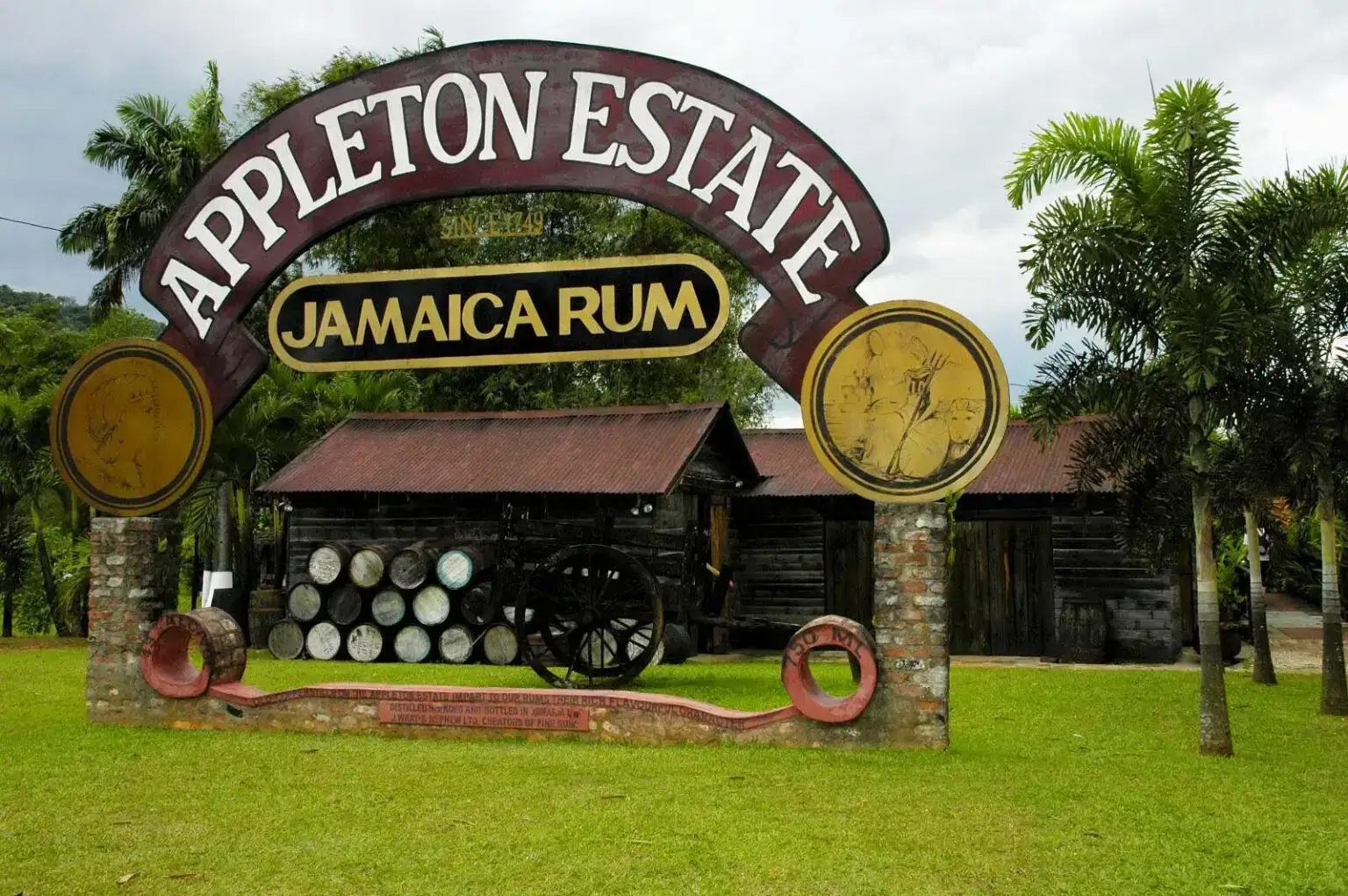 For an authentic signature taste of Jamaica, head to Cockpit Country on the south coast for the Appleton Estate Rum Experience. Appleton Estate is a distillery that produces authentic and aromatic Jamaican rum in one of Jamaica's most beautiful valleys, the Nassau Valley in St. Elizabeth. The Appleton Estate is one of the few rums in the world that claims terroir or a completely natural environment for rum production. The factory offers rum tours for visitors to get an inside look at the unique rum-making process. Tourists can sample many different rum blends and even receive a complimentary bottle of Jamaican Appleton Rum at the end of the tour. To discover the pleasure of a beautifully complex flavor and witness a rewarding experience, the Appleton Estate Rum Experience is the 8th must-see for anyone visiting Jamaica.
9-Bob Marley Museum, Kingston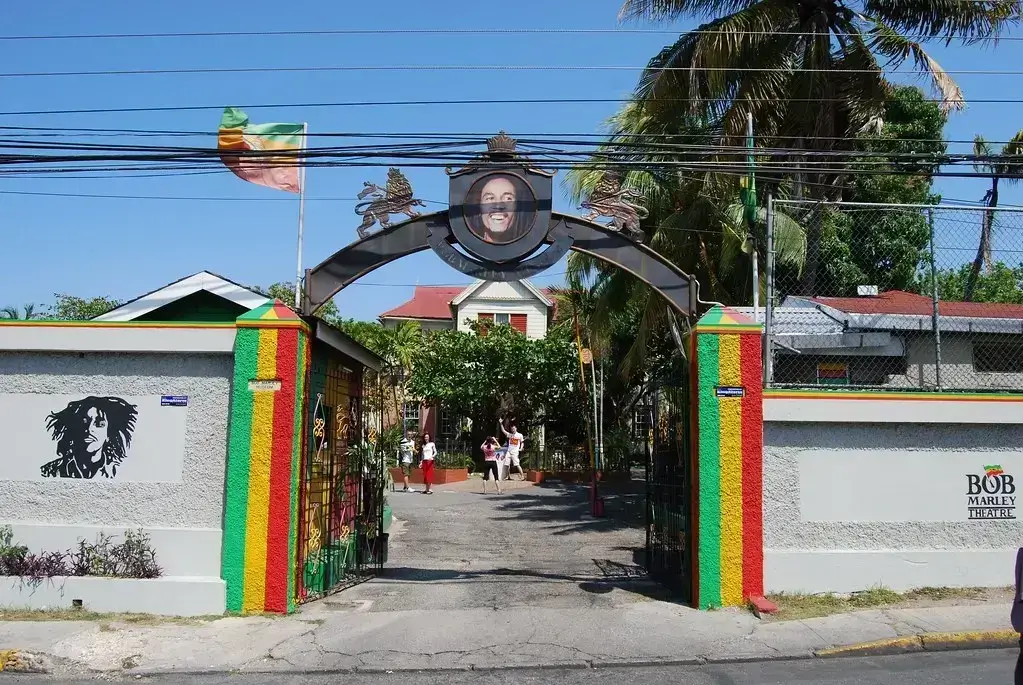 To get the perfect peak of Jamaica's infamous reggae culture, the Bob Marley Museum is a must. The museum is the former residence and studio of the legendary reggae icon Bob Marley, located in Kingston, where he lived until he died in 1981. Today, the museum is a famous tourist attraction commemorating the singer and his music. The house displays Bob Marley's platinum and gold records and is lavishly decorated with Rastafarian murals and mantles. So step into the reggae lifestyle and experience a bit of Bob Marley with Jamaica's 9th must-see tourist attractions.
10-Martha Brae River, Falmouth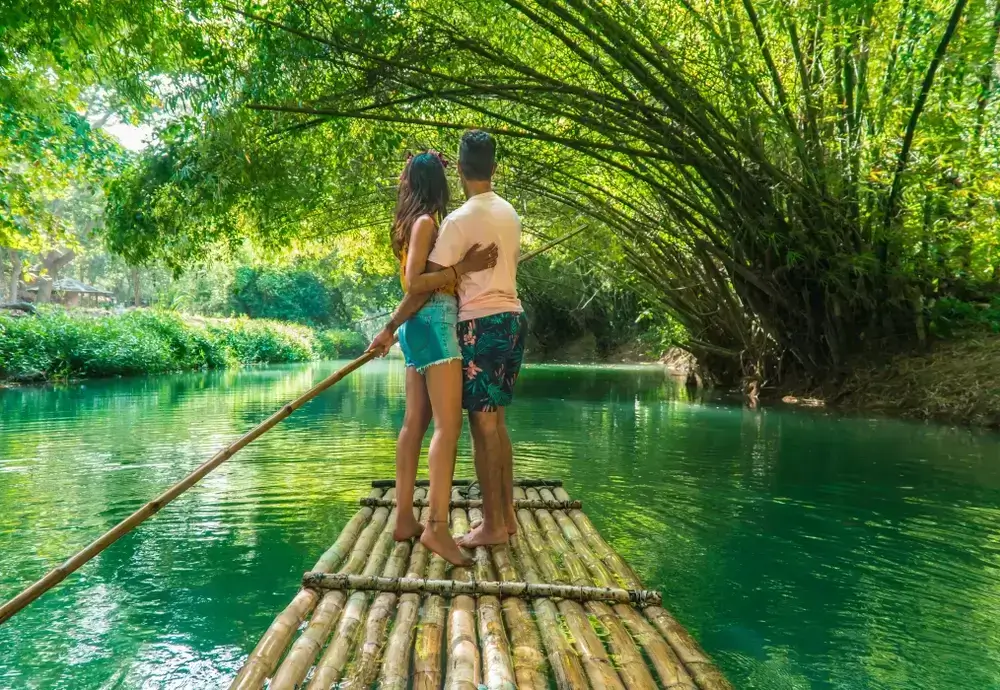 Martha Brae, the island's #1 rafting attraction, is located approximately 10 minutes from Falmouth. Your adventure begins at "Rafter's Village" on a natural horseshoe island with a fully equipped resort with a bar and gift shops. Before embarking on the tour, guests can visit "Miss Martha's Herb Garden," a display of Jamaican herbs renowned for their medicinal and healing properties . 
Founded in 1970, Martha  Brae Rafting boasts eighty-five licensed and experienced raft captains. Guests board 30-foot bamboo rafts under the supervision of a licensed dispatcher. The rafting trip, lasting approximately 1 hour and 15 minutes, is operated on a three-mile stretch of the Martha Brae River. As you raft down the river, learn about the "Legend of Martha Brae" and even try your hand at rafting.
Please take a quick raft trip at Jamaica's 10th must-see tourist attraction during your vacation in Jamaica or take advantage of its privileged location close to other natural attractions and diverse nature
That concludes our list of Jamaica's best tourist attractions to visit in Jamaica. We hope you enjoy these places as much as we do, and have a great trip! If you still need to figure out where to stay in Jamaica